The most information about the
best benefit plans
Search, filter and select from the entire
universe of benefit providers, all on one
easy-to-use site. Detailed listings and
reviews help you choose quickly and
wisely.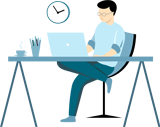 Everybody who's anybody is on the list
More than 1,500 benefit providers are on The Granite List. There's no better way to find the right plans for you.
The Granite List is your go-to resource when you're seeking new benefits providers. Easily search, filter and contact solutions that will help you achieve your goals.
"We received a lead the first day our page went live. We are excited to be included in this new venture and look forward to where The Granite List will go."
Anne Hendrickson
Vice President Operations/Marketing at Allergychoices
"The site is designed for us as brokers to learn about new solutions in one easy platform without having to field calls from a million of them in order to serve our clients better."
William A.
Alliant Employee Benefits Producer
"The sheer enormity of choices can be overwhelming. Part of the challenge is understanding provider capabilities; do they have the firepower to handle our nearly 100,000 employees?"
Lani Glancy
Vice President of Talent Development, DEI and Comms., AutoZone
Detailed vendor listings!
Videos, PDFs, a detailed description and contact information make it easy to find the right solutions to consider more deeply.

Free-form search and a detailed taxonomy make The Granite List an easy-to-search and -use resource for time-starved HR professionals like you. And you.

Real Ratings and Reviews!
Reviews on The Granite List are from real employers, like you. Every corporate user on The Granite List is verified before they are able to weigh in.